SALT LAKE CITY — When Utah Jazz head coach Quin Snyder said his team will have its work cut out for it with the Denver Nuggets in the playoffs, he wasn't lying.
This matchup, and any Western Conference opponent that the Jazz could have drawn in the first round of the playoffs, won't be easy. But, there is a path to success.
Every team has weaknesses, and the Jazz are fortunate that their strengths line up well with some of the soft points in the Nuggets' game. Even so, that's no guarantee.
The Jazz are going to have to play nearly perfect team basketball and win nearly every individual matchup if they want to advance to the Western Conference semifinals.
Offense
The most anticipated matchup of the Jazz-Nuggets series is between Rudy Gobert and Nikola Jokic, arguably the best defensive center and best offensive center in the league.
Jazz-Nuggets playoff schedule
(3) Denver Nuggets
vs. (6) Utah Jazz
Game 1

Nuggets 135, Jazz 125 (OT)

Game 2

Jazz 124, Nuggets 105

Game 3

Jazz 124, Nuggets 87

Game 4

Jazz 129, Nuggets 127

Game 5

Nuggets 117, Jazz 107

Game 6

Nuggets 119, Jazz 107

Game 7

Nuggets 80, Jazz 78, Nuggets win series 4-3

While the defensive assignment for Gobert will be more difficult than against a traditional center (more on that later), Jokic is not a good defender, which will leave the door open for Gobert to make a big impact on the offensive end of the floor. This ties right into some of the other matchups.
With two of Denver's starters, Gary Harris and Will Barton, injured, they've turned to Torrey Craig and Michael Porter Jr. while in the Orlando bubble. Craig has done an unbelievable job on Donovan Mitchell this season, hounding him to the point of nearly keeping the Jazz star scoreless in their first meeting this season. It's forced Mitchell to work quickly to get the ball out of his hands and work more off-ball.
In order to free up Mitchell, the Jazz could easily work to switch Craig onto someone else, or allow Conley to become more of a facilitator when Craig and Jamal Murray are guarding him and Mitchell, since the Jazz can get past Murray with more ease.
"We understand that Donovan is going to draw a lot of attention and that Rudy is going to draw a lot of attention on his rolls to the rim and guys have to be able to make shots and make plays," Conley said. "I've had a couple of good games against Denver and kind of got an idea of what to expect and how they're going to play Donovan and I feel ready for it, been preparing for it."
Porter, while a fast-growing offensive player, is weak on the defensive end. Porter opened up the Aug. 8 Nuggets double-overtime win on Joe Ingles. If the Nuggets go with that matchup again, the Jazz absolutely cannot hesitate to take advantage of it.
Mitchell getting the ball to Ingles early in the shot clock allows Ingles and Gobert to do what they do best, which is dance through a high pick-and-roll. If those options close up, the quick action will allow for kick out options to Conley, Royce O'Neale and Mitchell.
"We're quick, we're fast," Snyder said. "I think that would be one of the things that we need to do, is we need to be able to space the floor and use our attributes, and that's our quickness."
Speed and strength can't be undervalued by the Jazz in this series. Making the Nuggets work and run on defense will hopefully make things a little harder for Denver when they turn around to get on offense. And while the Nuggets do have a size advantage over the Utah, if the Jazz drive and finish with strength, that length could be used against the Nuggets in the way of creating contact for trips to the free throw line.
Defense
In describing Jokic's ability to control a game on Saturday, Denver reserve guard Monte Morris summed up the Serbian center perfectly and succinctly.
"He can take over a game and not even shoot a jumpshot," Morris said. "That just shows you how special and how talented he is."
Jokic stretches the floor, and the entirety of the Denver offense runs through him. He leads their team in points, rebounds and assists, and by drawing Gobert out of the paint, he takes away the rim protection that Gobert has built much of his career on.
Jazz-Nuggets statistical leaders
Utah Jazz, Denver Nuggets Statistical Leaders
---
Utah Jazz
Donovan Mitchell, 24 ppg
Rudy Gobert, 13.5 rpg
Joe Ingles, 5.2 apg
Denver Nuggets
Nikola Jokic, 19.9 ppg
Nikola Jokic, 9.7 rpg
Nikola Jokic, 7 apg
"Offense is always going to beat defense one-on-one," Jokic said on Saturday.
Both players agree that in order to stop the other, it will take a team effort. But offense isn't just about scoring, and Gobert should take Jokic's words and use them as motivation to shut down the part of his game that makes him the most dangerous, his passing and tandem game with Murray.
"He's so good," Snyder said of Jokic. "He's an elite player in this league. There's nothing that he can't do on the floor. You try to do what you can to slow him down, so to speak. ...Everybody's got to be aware on the court. He's such a good passer. He can score from different levels, force switches, he handles mismatches."
With Jokic's versatile offensive skillset and the Nuggets' size advantage in mind, as well as the fact that they aren't a particularly lethal 3-point shooting team, the Jazz's guards and forwards have to stay in front of their men, rotate quickly and do their best to keep the Nuggets out of the paint, where they thrive.
Ingles and O'Neale will be tasked with guarding Paul Millsap and Porter, respectively, and those could end up being really key assignments. The Nuggets' length on offense is their greatest weapon outside of Jokic. Slowing down Jokic and Murray is going to take a 48-minute effort, but when Ingles and O'Neale aren't on the floor, the Jazz lose the edge in holding back two of Denver's most lengthy and lethal outside shooters in Millsap and Porter.
Jazz's top priorities
Rebounding
The Nuggets do not give up on plays. They crash the boards hard on offense, and when they're facing a smaller team, it is incredibly beneficial. The Jazz need everyone, not just Gobert, to check their man and gain good position in order to reduce the number of offensive rebounds the Nuggets have become accustomed to. This becomes especially important in moments when Jokic draws Gobert out of the paint. The Jazz are usually good at making a first shot difficult but second chance points can hurt.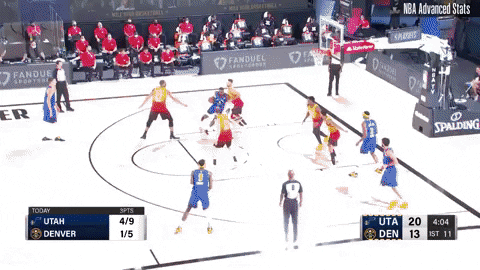 Shooting
Ingles, O'Neale, Mitchell, Conley, Georges Niang and Jordan Clarkson have to be aggressive from the 3-point line. The Nuggets have had abysmal perimeter defense, so the Jazz are going to have the chance at open catch-and-shoot treys. Knocking them down will obviously be necessary, but so will shaking off misses.
Exploiting the Nuggets' defense
Denver coach Mike Malone has called his team's defense "embarrassing" and "confusing," and has questioned the effort of a team that has been dead last in defense rating while in the bubble.
"We cannot have a mindset going forward that we're going to outscore teams in the playoffs," he said. "That is a losing formula."
The Jazz would do well to make the Nuggets feel as much pressure as humanly possible. The less confidence they can gain on that end, the better.
But, Mitchell had a very good point on Saturday when he said that the Jazz can't bank on Denver's defensive woes continuing.
"I don't anticipate them having those struggles come playoff time," he said. "I think they'll be locked in ready to go. I think come playoff time, guys will lock in on a different level, a higher level."
That's the right mindset to have when heading into the playoffs. Expect the opponent to come out just as ready for battle as you are, but also be ready to pounce on any weakness you can find.
Remaining questions
Will Barton and Harris return to the Nuggets' lineup?
The Nuggets are hopeful that their starters will be able to recover from injury and return to action, but nothing is certain yet. If they are able to play in the opening round against the Jazz, there will definitely need to be some pivoting and adjustments made by Snyder.
Can the Jazz play 48 minutes of solid basketball?
Spurts and flashes is what we've seen so far from the Jazz in the NBA bubble. Even in the double-overtime loss to the Nuggets, the Jazz fell off and got sloppy during portions of the second half. If they aren't able to find some consistency through the game, this will be an even tougher uphill battle than it already promises to be.
Which team's depth will have a bigger impact?
If the Jazz find themselves in foul trouble at nearly any position, they could be forced to turn to some of the lesser-experienced players on the team. How they fare in those situations could be a turning point.
Likewise, if the Nuggets are without Harris and Barton throughout the series, Denver's bench production could become a liability. The team that is able to maintain effort and efficiency from its reserves could end up with a pretty significant advantage.